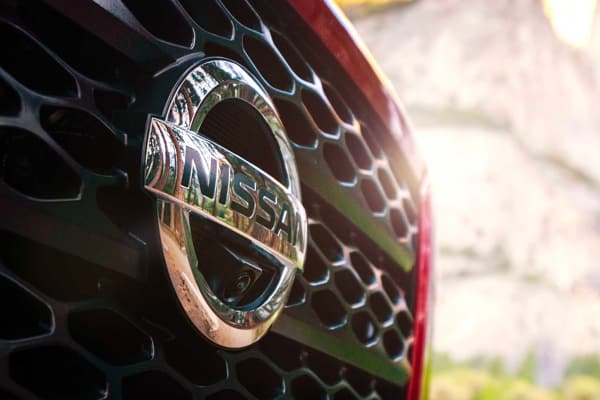 Get Approved
We'll work with you to get the car of your dreams, apply for financing now!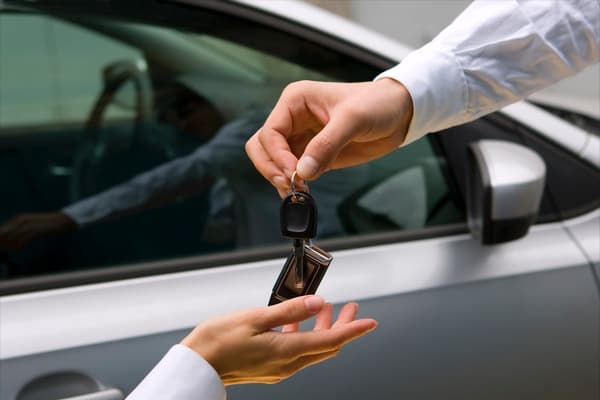 Sell Your Car
Looking to trade-in or simply sell your vehicle? Use our quick online appraisal tool to get an estimate.
Nissan


Certified Pre-Owned

Only Nissans that meet our high standards qualify for Certified Pre-Owned status. Benefits include a comprehensive inspection, clear title, warranty, roadside assistance and more.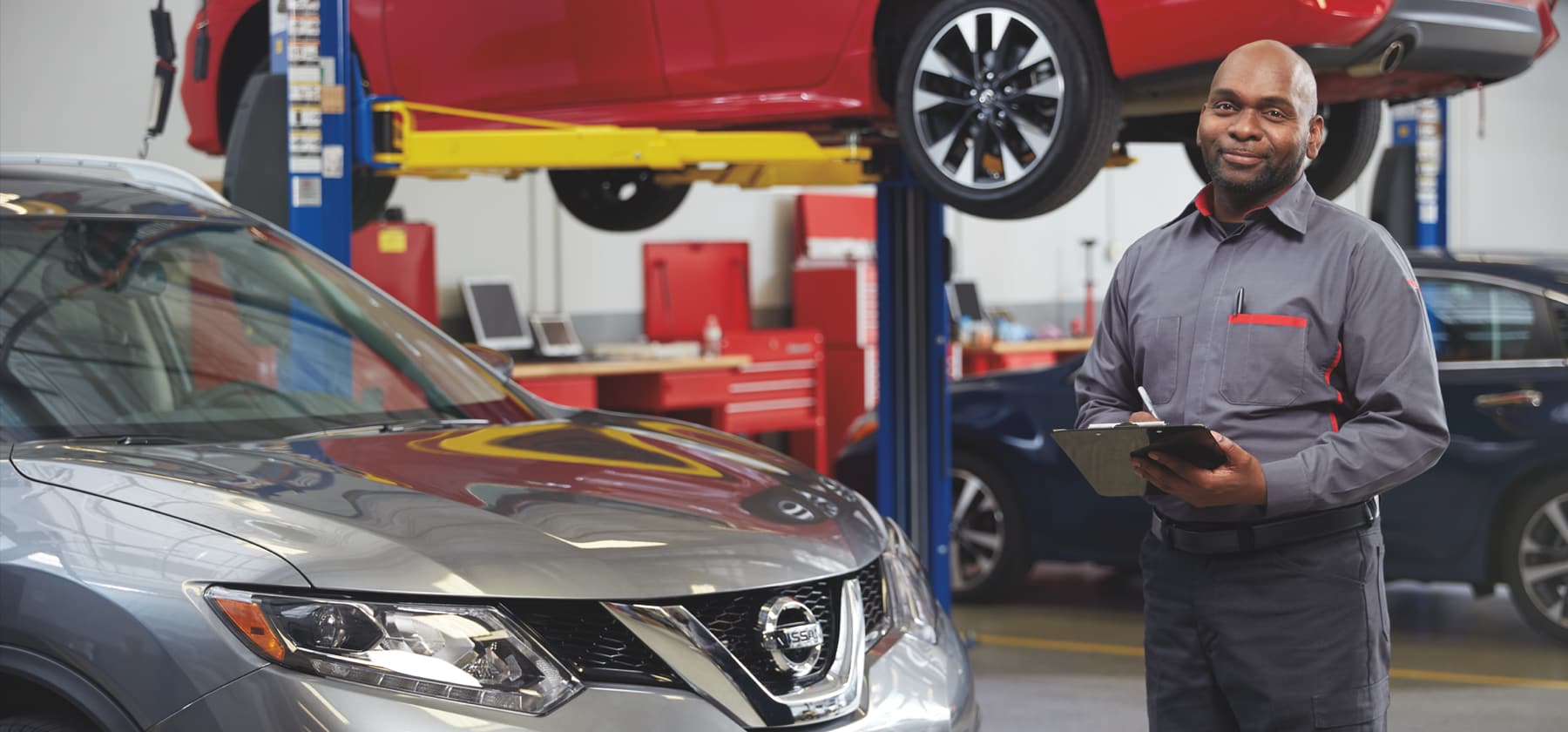 Nucar Nissan of Keene


Services All Makes Including Your Nissan EV.

Whether you have a vehicle that needs to be fixed or simply need to bring one in for routine maintenance, Nucar Nissan of Keene's trained certified technicians are ready to help. Bring your Nissan EV in for routine maintenance!
Our Recent

Reviews

Went into Nissan Of Keene to buy a new Frontier. After looking over what they had and the payments would be over what my budget could handle. So I was shown a 2021 Frontier that was a Certified Preowned. It was a loaded Pro4X. After seeing what the approximate payment would be, I decided to get it. I picked it up This past Monday, it has been nothing but awesome! I very much recommend Nissan Of Keene. See Connor in Sales, he's great.

This. Has been the best experience thanks to Steve he went above and beyond for me he resolved a very unexpected issue I had with prior vehicle , as well Tony was also very supportive ! As for me I now am a forever client of Steve, thanks for your outstanding help! Laura Estes , very very satisfied customer.

I had an excellent experience buying a Nissan Rogue from Nissan of Keene- Go see Dylan Donoghue in sales. He takes exceptional care of his customers!

It was a great experience from start to finish! The sales staff were helpful through the whole process! I definitely will return for another purchase!

I just wanted to thank everyone that helped in delivering my new Frontier to me this morning. A new vehicle purchase can often be quite troublesome, but you were able to make it much easier than I've experienced in the past. I would certainly remember Nissan of Keene when I get in the market for another vehicle in the future or if someone asks me where they should look....

Wonderful experience at Nissan of Keene. Great selection, great staff. Truly a pleasure doing business with them! Knowledgeable, and no pressure. Nice job team! Ty 😁

I have never had a bad experience with the Nissan of Keene dealership. Any employee that I have worked with has been courteous and professional. I look forward to doing business with Nissan of Keene for many years to come.

Polite and comfortable experience in a pleasant and SAFE environment. They listened to our needs and were able to deliver on the product we wanted. Our Salesman Taylor Doyle was relaxed and very easy to speak with - he knew the right stuff!

This is our 2nd vehicle in less than two years that we bought here. Not just once, but now twice there was zero buyers remorse. The team here is truly the best and they have far exceeded our expectations. I can truly say, we will never buy a vehicle anywhere else. I called for a last minute request for an inspection, and there was no hesitation. Told them I would be in the area in an hour, they said 'stop on by'. Tony and his team are what a dealership should be like. People first, vehicles second. And they excel at what they do. Thank you all again.

Brought my vehicle in for its 30,000 mile service and to have my snow tires changed to my summer tires. Was told it would take approximately 2 hours, which I was fine with. I was greeted promptly and courteously by the staff. I told them I had other errands and would return. Well. I came back around an hour and a half later and to my surprise, my vehicle was ready. Not only that , I was given a 65 dollar credit!!!!

I can not say enough fantastic things about this dealership! Chris, RJ, Ben, Kevin, Tony! #1 dealership in Cheshire county! Exceeds expectation every single time! I'm a lifer for sure! Why? I trust this dealership! They work so very hard on your behalf; and that means the world to me! I will never go anywhere else! If you need a new car/truck/suv, etc. do yourself a favor and entire this dealership and be ready to be wowed! Thank you everyone for a job well done and yet again: I drive away with my 3rd lease with a smile on my face! Happy customer!

Nissan of Keene has a great group of employees who make the car buying process easy and fun. There is no pressure to buy and they are helpful every step of the way. I've bought multiple cars from them and will keep coming back!

Nissan of Keene has been one of the better experiences I have had with car dealerships. From their salesmen to their customer service and service personnel they have all been very friendly, helpful, and answer any question you may have. I'd give them 5 out of 5 star rating.

This dealership is top notch both sales and service. All are most kind, knowledgable, and professional. Been going here to buy and service for over 10 years.

I just leased my dream car today from Steven at Nissan of Keene. He did a great job and made the process as fun and easy as possible! He even helped move all of my belongings (including my cat) from one car to the other. Thanks Steve! Melanie Kalliosaari

When I went to the dealership I was thinking I might want a used car. I had my previous car a 2010 Chevy Equinox. Walking into the dealership I saw a Nissan Rogue Sport and liked it. Taylor asked what I was looking for. After speaking to him for a few minutes told him I liked the looks of the Rogue. He told me a few things about the car, he asked if I wanted to take it for a ride. I did and loved the fact that it was a little smaller than my Equinox and handled very nicely. It was very easy to park, and that was it. Taylor told me all about the rogue, I had lots of questions, and he answered them all. My car had over 100,000 miles on it and he gave me a very fair trade in on my car. He never tried to sell me more, he just was the perfect salesman. He had so much patience with my many questions. I never felt pressure at all. Nissan of Keene is very lucky to have Taylor as a salesman. I already have my first service appointment in May and I am loving my Nissan. Joan DeGrandpre .

my car was serviced in faster than I had serviced at other dealers in the past. this service department is top rate in my book.

The sales staff and finance manger was beyond what I expected they made sure that everything was easy and perfect in my deal best experience I ever had with a dealership!!

my new nissan is the 4th one I've purchased from nissan of keene. tony and the entire staff are always courteous,professional and fun to deal with!! most importantly, their after the sale service is absolutely hassle free and the best I've experienced. will not hesitate to purchase my next vehicle from nissan of keene!! many thanks to carl,chris,tony and to the rest of the crew for another awesome buying experience!!

The best dealership that I have ever been to Everyone is friendly and attentive This is my second vehicle from them And best of all there is no pressure

Great experience working with RJ and Chris buying a brand new car. Usually it is a painful experience this was nothing like that. Easy on a holiday weekend. Went home with my brand new clean car the next day. Will definitely do business here with RJ again! Thanks again!

As I mentioned in a previous questionnaire, my last service visit to Nissan of Keene was like most. Still the same outstanding service and atmosphere as always! I ?? that Dealership and for now would not change a thing about the way Tony and his entire Team run it's daily operation. Remember the old saying, If it ain't broke, don't fix it!!!!Have a great day 😃

Recommended by Chuck we went to Nissan of Keene and contacted Tony. Same day we purchased the vehicle. Our decision was based on an explicit information provided by Chuck Dupler. He advised us on the package that the car comes with and sent pictures in advance. We appreciate his assistance and friendly cooperation of your professional staff.

Rob Brennan Is a true asset to Nissan Of keene, he is always pleasant to talk to you and extremely knowledgeable, we have purchased 5 vehicles from Nissan of keene, we wouldn't bring our vehicles to any other dealer for service or purchase from any other dealer, which says a lot for the staff of this dealership as we are over two hours away. A absolute joy to work with. Thanks again for taking such great care of us and our vehicles Rob!

Since my first purchase 6 years ago, I knew I would come back to Nissan of Keene for my next purchase. Steven Duclos is very knowledgeable, I never felt rushed or pressured. Everyone I've dealt with here in the past 6 years has always been friendly and their service department is also top notch. Glad I found this dealership six plus years ago.
Welcome to


Nucar Nissan of Keene
Stress-Free Car-Shopping
Have All Your Automotive Needs Met at Nucar Nissan of Keene
Whether you're looking for a Nissan Kicks, Rogue, Sentra, Titan or Altima, reliable auto service, or affordable financing near Swanzey, you will discover everything that you need at Nucar Nissan of Keene. We are proud to serve North Swanzey, West Swanzey and East Swanzey, NH by not only carrying popular Nissan models but by exceeding your expectations and forging connections with our customers. Explore what our dealership has to offer and discover how easy it can be to have your driving needs met.
Want to Talk Auto Finance?
Purchase or Lease - Nucar Nissan of Keene Can Help
As your local automotive dealer specializing in Nissan, we're happy to help each customer who visits us find their perfect Nissan Kicks, Rogue, Sentra, Titan, or Altima. As your local automotive dealership with expertise in financing, we're also happy to help you find the best payment plan for your budget. We maintain relationships with multiple banks throughout Swanzey and we work with you, and your budget, to help you secure the best lease offer or loan agreement for your needs.
We Keep You Going
Consistent Excellence at Nucar Nissan of Keene's Service Center
At Nucar Nissan of Keene's service center in Swanzey, you can count on expert service and high-quality parts. We have built a reputation for excellence in service, and our mechanics intend to keep it that way. What can you expect when you bring your vehicle in to get serviced at Nucar Nissan of Keene? You can be confident that your Nissan vehicle will be repaired or serviced with the utmost attention to detail. We also posit that your vehicle will be serviced with original, high-quality manufacturer's parts. Maintaining the integrity and safety of your Nissan Kicks, Rogue, Sentra, Titan, and Altima vehicle entails using the right parts for the repair. If what you need is not in our inventory, we can order it from our manufacturer. The Nucar Nissan of Keene name is synonymous with quality workmanship and distinguished service. If your car, truck, or SUV is due for an inspection, or if it needs to be repaired, the service center at Nucar Nissan of Keene in Swanzey is open and ready to serve drivers from North Swanzey, West Swanzey and East Swanzey, NH.
---